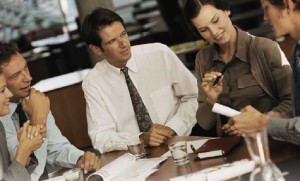 The Art of Becoming a True Leader and a Driver of the Success of Your Business.
Recently, at Hobbs/Herder we were talking about a real estate broker who asked us to come in and review his company. He was frustrated because his per-agent productivity was below average, office morale was low and, given today's recovering real estate market, he believed he should be doing much better.
The broker was very progressive; he had an MBA and had worked hard to give his agents every advantage he could think of. He had a great office location, with a meticulously appointed interior. He had provided his agents with the very latest technological innovations and tools. He had regular agent training programs and all kinds of systems in place to help his agents. He also provided them with a very competitive commission structure.
In addition, both the broker's business plan and marketing plan looked solid. His ads were better than most. And his business plan covered all the bases. The key areas where we generally see problems all seemed okay. We were starting to wonder what was going on. The next step was to spend a couple of days in the office talking to the agents and assistants, and also spend some time with the broker and his management team.
It wasn't long before the problem became apparent. There was no leadership in the organization. The broker was a great systems manager, but lacked the leadership skills to inspire his agents to step out of their comfort zones.
Redefining Your Role
Too many brokers today see their manager or leadership role as something they do, rather than an expression of who they are. Leadership starts from within and will only develop when people commit themselves to looking inside so they can develop the qualities of leadership from within.
We believe authenticity is one of the major qualities of leadership that every broker needs to develop. Authenticity refers to knowing who you are, warts and all. Authentic leaders are constantly strengthening their areas of weakness and capitalizing on their gifts. When you are authentic, you automatically have the respect and admiration of those around you. You walk your talk and let the essence of your true character show to others. People who understand who they are tend to have a more powerful voice. They make a more profound impact on the agents who work for them and inspire them to risk moving to the next level.
Test Your Leadership Ability
It is impossible to lead people who don't trust you, and it's impossible to build trust without cultivating authenticity. To test how authentic you are, ask yourself these questions:
• How well do I know myself?
• Why do I pursue the work and life that I have?
• How do I act during the most fulfilling times of my life?
Your answers will help you define yourself and lead you to a better understanding of why you do what you do.
How well do you listen? Do hear your agents' fears? Their intentions? Their aspirations? When you start to hear them at a deeper level, you'll start getting information that will allow you to help your people achieve more. Best of all, when you listen, people will know that you care about them, and they will eagerly commit to you and your organization.
Finally, ask how well you show your appreciation to your agents. Unfortunately in real estate, confrontation and criticism are more socially acceptable than expressions of true appreciation. Appreciation is a true value-creating activity. It will energize your people and make them want to exceed their goals and perceived limits.
Open the Channels of Communication
One of the great advantages of being authentic is that it allows you to speak openly with your agents when they need it. How often have you held back from saying something that you felt was important? Authentic expression goes beyond telling the truth: It demonstrates a total congruence between who you are and what you do and say, and gives great power to your voice.
So often today, brokers forget that they must lead, not just manage. This is even more prevalent when that broker is under stress from the pressures of the market and economy. Leadership requires the ability to take a step back and see your business and your agents from a 30,000 foot perspective, so you can see the entire playing field. Being a "manager" is more like a reactive firefighter, chasing problems instead of looking down the road and being ahead of the curve. That's leadership.
It's imperative to note that you can have stress from a down market AND a recovering market. That's a constant in any Broker/Manager's life. Hopefully, this article gives you a chance to step back and get that 30,000 foot perspective, even if only for a few moments. Hobbs/Herder wants you to know we are in your corner. We have even developed some informative Webinars for real estate managers. If you would like a link to view a free Webinar that helps you build and implement  your vision: Creating Your Management Vision: How to build a strategic action plan to create a culture of success and increase your profitability, call Bob Ruesch at 1-800-999-6090, ext. 668 for a complimentary link.